Welcome to the Appalachian Conference!
A worship and discipleship experience for teens!
with Dr. Garnet Pike and Dr. Jay Pike
Need to access the Martus Solutions Ministerial and Church Reporting site?
God is calling the IPHC to plant churches in counties across America.
The Appalachian Conference call to that vision is to plant a church in 75% of our counties in this region.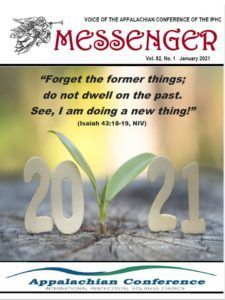 Download and view The Messenger TODAY
for the latest conference news and updates!
Clergy - take the next step and start planning for your future TODAY!
The Appalachian Conference is a Pentecostal/Charismatic network committed to multiplying and maturing believers through church planting, church revitalization, leadership and discipleship.
Our Main Office and Campground Properties
5847 Oak Grove Place
Dublin, VA 24084
Monday-Friday, 8:30 a.m. - 5:00 p.m.
Interested in getting your church set up with a new website and/or app?
Contact Brittany Hall!